Tis' the season for all things merry and bright… and boozy! If you're looking for the best holiday cocktails in Oklahoma City, look no further. From a chocolate old-fashioned cocktail to spiced cranberry margaritas, we've got you covered. Get ready to spread a little Joyeux noel (or Feliz Navidad) with these festive drinks. 
 
Turkish Fig Old-Fashioned at Bar Cicchetti - Figs and the holidays go together like, well, figs and the holidays! This creative take on a classic old-fashioned at Bar Cicchetti combines fig-infused bourbon, black walnut bitters and maple syrup. It's the perfect blend of sweet and savory, and sure to get you into the holiday spirit! 
Spiced Cranberry Margarita at REV Mex - Easily described as an "Adult Christmas in a Cup," this festive margarita from REV Mex will have you feeling all sorts of holiday cheer. It's made with tequila, syrup from fresh cranberries and syrup made from allspice dram liqueur. It's garnished with dried cranberries and a rosemary sprig, both dusted in sugar. This holiday cocktail is so good, you may just want to leave Santa a glass! 
Scarlette Letter at Mary Eddy's Dining Room - It is cold outside, so that means you can enjoy a delicious cocktail to warm you up! Mary Eddy's Dining Room at 21c Museum Hotel in Oklahoma City has the perfect solution: The Scarlette Letter. This hot toddy-esque cocktail is apple brandy-based and infused with warm hibiscus tea. Amaro Nonino, Cinnamon Honey, Pecan bitters, and Cherry Heering liqueur, bring everything together. Served in a tall mug, this cocktail is sure to take the chill out of your bones on a winter's night. 
Chocolate Old-Fashioned at La Brasa - The Chocolate Old-Fashioned at La Brasa is a chocolate lover's dream. This deliciously remixed classic cocktail is made with Kentucky straight bourbon whiskey and chocolate bitters. It's served over a big whiskey rock and garnished with an orange peel and decadent chocolate shavings making it the perfect holiday treat for any bourbon lover!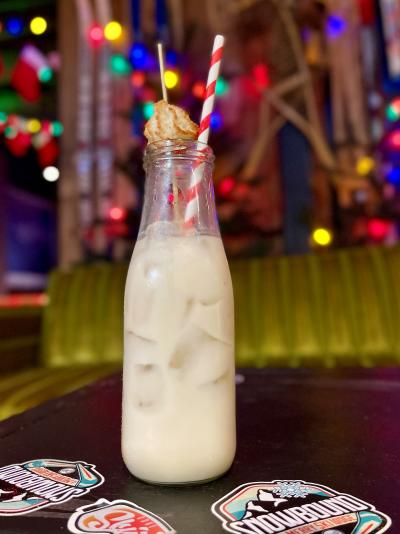 Midnight Milk & Cookies at Chicken N Pickle - What does ol' Saint Nick do after a long night of delivering presents to all the good little girls and boys? He stops by Chicken N Pickle for a Midnight Milk & Cookies Cocktail, of course! This adult version of "milk & cookies" contains milk, coconut rum, orange liqueur and vanilla, then it is dusted with cinnamon and nutmeg and served in a cute glass milk bottle with tiny macaron "cookies." It's the perfect nightcap for Santa... or anyone else who's been good this year! 
The Inkwell at Bradford House - If you're looking to add something new and exciting to your holiday cocktail repertoire, look no further than The Inkwell. Unique as it is festive, the Inkwell, is not your typical holiday libation. No eggnog here. No gingerbread either. What you will find is cask-strength Bourbon complimented with Amari and Berto Fernet liqueur. This holiday cocktail is both modern and classic at the same time, and sure to be a new favorite! 
The "Slip" at Stock & Bond - Their play on a classic whiskey sour is sure to hit the spot this holiday season, with its thick and creamy texture and toasted cinnamon flavor notes giving it a sweet and spicy finish. This is one drink you won't want to miss. 
Whether you're looking for something festive to get you in the holiday mood or something to warm you up on a cold winter's night, one of these delicious holiday cocktails is sure to hit the spot. So next time you're out celebrating the holidays with family and friends, be sure to raise a glass and enjoy one (or two!) of these lovely drinks! Cheers! 
 
Find more ways to celebrate the holidays with our full round up of events and happenings around the city.