If you're exploring OKC for the first time, it can be challenging to know where to start. And for folks who live in Oklahoma City, in all its cultural amenities and attractions, it can be all too easy to slip into comfy routines filled with favorite coffee shops, districts and restaurants. Having so many crowd-pleasing options is a great asset, but beyond the familiar fixtures, it's fun to branch out and try something new every now and again. Teeming with bars, breweries, shops, parks, art and everything in between, OKC is an ideal city for a weekend trip — one where locals can reacquaint with their hometown and where visitors can discover OKC for the first time. No matter if you're a visitor or local, here's an action-packed itinerary for how to spend 48 hours in OKC.  
Day 1 
Where to stay 
Start your visit off by booking a room at OKC's most dazzling new hotel, The National. A historic refurbishment on an epic scale, the hotel is in a former bank tower from the '30s. Nowadays, the art deco beauty is decked out with chic guest rooms and jaw-dropping dining spaces, including Italian-inspired Tellers, the soaring Great Hall lobby bar and a basement bar, the Library of Distilled Spirits, in a massive vault.  
Rise and shine with taco and tarts 
Start your weekend on a high note with breakfast at Stitch Cafe, a sunny and stylish West Village District cafe with cereal milk lattes, breakfast tacos, habit-forming tater tots and sweet and savory tarts — oh, and a full bar with drinks that go far beyond mimosas.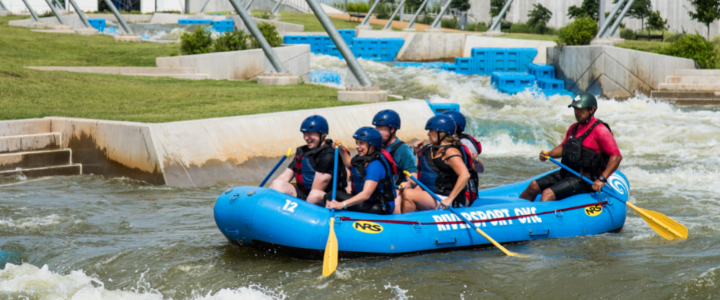 Make a splash 
OKC may not seem like the most obvious setting for adrenaline-pumping water activities, but Riversport OKC in the Boathouse District is a thrilling — and beautifully designed — facility for kayaking, white water rafting and floating films (you haven't lived until you've watched Jaws on the water).  
Lunch in the park 
For comfort food with skyline views, swing by Spark in Scissortail Park. The whimsical fast-casual restaurant slings burgers, frozen custard, boozy peach slushies and crinkle-cut fries drizzled in pink sauce.  
Visit a one-of-a-kind museum 
There are several museums to visit in OKC, but one requisite is the First Americans Museum. The sprawling property is the largest tribal cultural center in the U.S., telling the stories of Oklahoma's 39 tribal nations.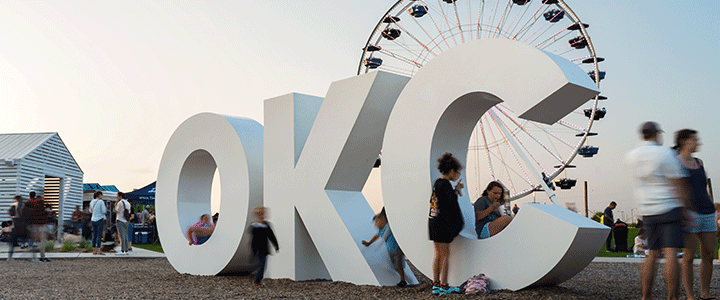 Take the Wheel(er) 
Stay on the south side of the river to hang out in one of OKC's newest neighborhoods: the Wheeler District. Rove the manicured streets and go for a spin on the Wheeler Ferris Wheel, with sweeping views of the Oklahoma River and skyline.  
Explore the Plaza District 
Get artsy in the Plaza District, home to the mural-filled Plaza Walls, galleries, eclectic fashion (peruse Dig It for funky vintage wares, or GRINMORE for high-end streetwear) and culinary art. For dinner, queue up at Empire Slice House, a pizza-slinging hot spot credited with transforming the neighborhood into a buzzy sensation.  
Stay out late 
After carbo-loading, put your night owl energy to use on the dance floor at 51st Street Speakeasy, a house-sized bar with fun theme nights inspired by the likes of Britney Spears and Daft Punk. Or go bar-hopping along 39th Street, home to queer and inclusive bars like Phoenix Rising, The Boom and Angles nightclub.  
Day 2 
Get caffeinated  
Start your day with some of the best coffee in town at Elemental Coffee, where vegan- and allergen-friendly eats include smoked salmon toast, pimento cheese sandwiches and salted chocolate chip cookies so decadent and buttery it's mind-blowing to think it's vegan.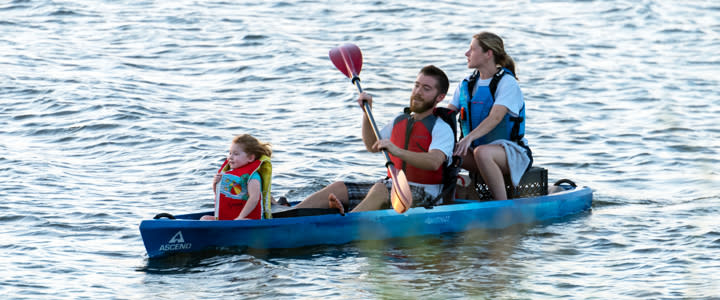 Have a lake day 
Enjoy some fun in the sun at Lake Hefner, a massive body of water on the northwest side that looks more like a small sea with its lighthouse, sailboats and wind-surfers. Rent a kayak or a paddle board to experience it yourself, or tee off at Lake Hefner Golf Club.  
Immerse yourself in art 
Part museum and part art gallery, get hands-on at Factory Obscura, a whimsically immersive wonderland filled with bubbly music, tunnels, slides and elaborately designed rooms aglow in flamingos and hearts. 
Hang out in Automobile Alley 
After Factory Obscura, check out other spots in Automobile Alley, like Parlor food hall, Common Dear for rainbow-hued housewares and feminist wares and Prairie Artisan Ales for crafty beers infused with the likes of Skittles and carrot cake.  
Beat the heat in an arcade 
For a blast from the past, put your nostalgic gaming skills to the test at Flashback Retropub, a kitschy arcade bar with a full bar and a dazzling array of free games, from Mario Kart and Skee-Ball to Teenage Mutant Ninja Turtles.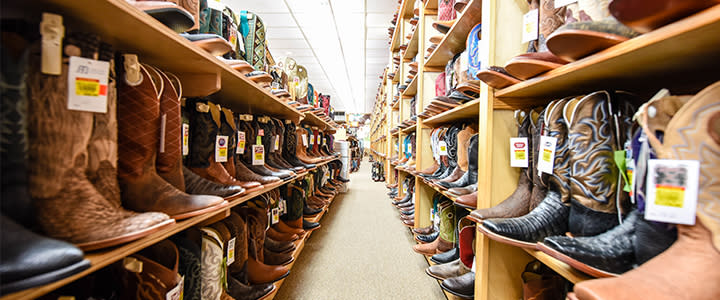 Visit the wild west 
Keep the vintage vibes going with a stint in Stockyards City, a neighborhood seemingly preserved in time with cowboy apparel, saloon and century-old steakhouses. Wander around Langston's Western Wear, a store so massive it's basically the FAO Schwartz of cowboy boots, then mosey up to the bar at McClintock Saloon for one of the best Manhattans in town. Have dinner at OKC's oldest restaurant, Cattlemen's Steakhouse, where the steaks — chicken-fried and otherwise — are as comforting as the rustic, timeworn dining rooms.   
Cozy up to a nightcap 
Wash it all down with an after-dinner drink (or two) from a bar (or two) downtown. Infinite options include The Study, a comfy-cozy wine bar that looks like something out of Clue; Palo Santo, a swanky cocktail bar in the Farmers Market District; or The Jones Assembly, a warehouse-sized bar and restaurant that brings the wow factor with its soaring facade, huge patio, concerts and killer cocktails.