Oklahoma City is home to several diverse museums with treasure-filled gift shops where you'll find everything from cowboy couture apparel to your own Chihuly sculpture.
Below are a few suggestions on ways to shop small from only-in-OKC museum gift shops!
OKC Culture Box
Science Museum Oklahoma, National Cowboy & Western Heritage Museum, Oklahoma Contemporary, Oklahoma History Center, Oklahoma City National Memorial & Museum, Oklahoma City Museum of Art, and Oklahoma City Zoo partnered to create the OKC Culture Box. The box provides tickets and curated items that offer a taste of the unique offerings at each attraction. OKC Culture Boxes are $50, with a retail value of more than $200. The OKC Culture Box may only be purchased at participating institutions or through the museum store websites, limited quantities are available.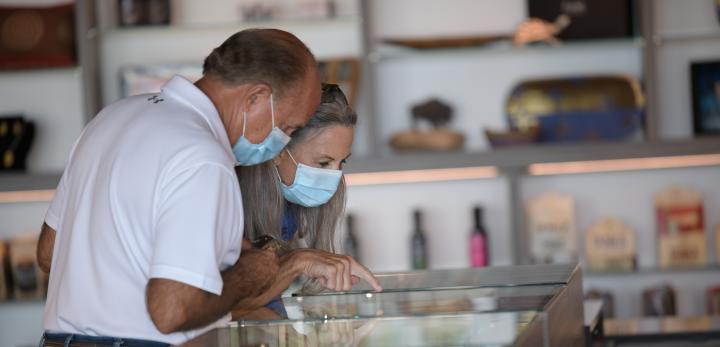 First Americans Museum
A day of exploring the newly opened First Americans Museum is not complete without a visit to the FAMstore. Featuring handmade art created by the finest First American artists, and features products produced by local First American owned businesses. If you're interested in checking out their wares, take a peek at their online store and have gifts delivered directly to your door.
Oklahoma City National Memorial & Museum
The bombing of the Alfred P. Murrah Federal Building on April 19, 1995, is a heartbreaking chapter in OKC's story. The gift shop at the museum features books, apparel, and bundled gifts that represent the Oklahoma Standard and honors those who were killed, those who survived and those changed forever. You can shop at the Memorial Store online and have the gifts delivered to you or directly to loved ones.
National Cowboy and Western Heritage Museum
After you've spent the day learning about Oklahoma's cowboy culture and rich Western heritage, mosey on over to browse the gift shop. The #HashtagTheCowboy apparel and Native American jewelry are a few favorite pieces to add to your cart, and the online gift shop allows patrons to shop local without leaving home. For a gift that keeps on giving, choose from a variety of annual membership options for year-round fun at the National Cowboy & Western Heritage Museum.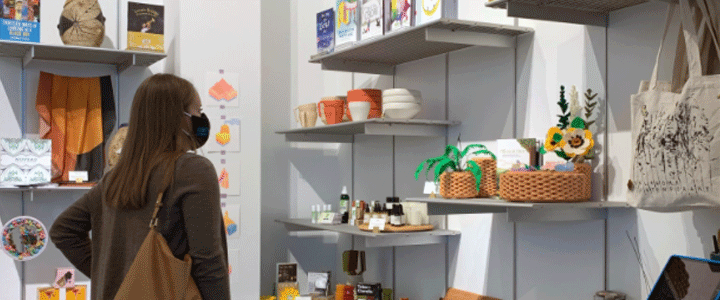 Oklahoma Contemporary Arts Center
Oklahoma Contemporary Arts Center showcases world-class, contemporary art experiences of all kinds, and it continues throughout the gift shop. The curated collection includes home goods, books, beauty products, prints and products geared toward kids. If you're looking for special experiences and hands-on activities to gift this holiday, studio classes, workshops and annual memberships to the museum are sure to be a hit. As an extra bonus, free delivery and curbside pick-up are available.
SKELETONS: Museum of Osteology
If you're on the lookout for an out-of-the-box gift, the Museum of Osteology gift shop has it all. Shop a plethora of novelty items including a pet tornado, cricket snack bites, an owl pellet kit and a skeleton construction set, or subscribe to the Skulls Unlimited BoneBox to send special collectibles, exclusive discounts and mystery skulls to friends and family monthly.

Oklahoma City Museum of Art
The Museum Store at the Oklahoma City Museum of Art provides the perfect art-centered shopping experience. The collection is carefully curated with a selection of products that rotate to reflect the Museum's current exhibits. Peruse the museum's gift shop for take-home treasures like you're own Chihuly sculpture, coffee table books and prints, or shop the featured online collection here. Annual memberships to the Oklahoma City Museum of Art start at $50 and offer various discounts, film screenings and special events to members throughout the year.
Science Museum Oklahoma
The Science Shop at SMO offers thrilling items for all ages that encourage curiosity, determination and continued education. If you're on the hunt for the right present for a science lover, shop for experiment kits, toys, puzzles and books, or purchase a gift certificate online. Visit this page to start shopping!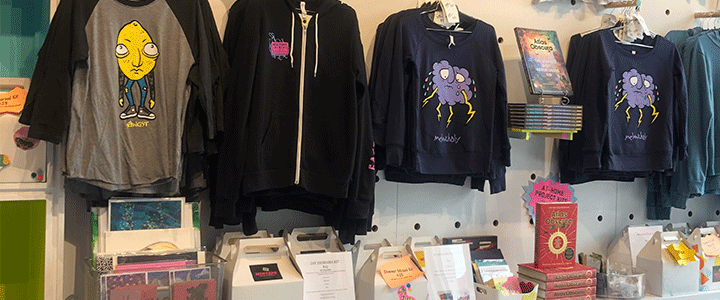 Mix-Tape at Factory Obscura
Factory Obscura's gift shop is quirky and magical. Choose from an abundance of apparel, accessories, prints and stickers with unconventional designs, or shop the collection of hand-made items from local Factory Obscura artists. The take-home DIY kits are also a hit—ranging from shimmer mosaic kits to invisible ink tye-dye kits. Shop in-person or online and have the gifts delivered to your doorstep. 
Oklahoma History Center
The gift shop at the Oklahoma History Center is home to unique treasures that help tell the story of Oklahoma's history of geology, transportation, commerce, culture, aviation and heritage. Shop for various prints, puzzles, maps, locally-made goods, music and annual memberships that are available to purchase online.