Pumpkin patches, hay rides, trick-or-treating and more... fall has finally arrived in Oklahoma City! From kid-approved fall classics to spooktacular frights for the brave at heart, we've put together your ultimate guide to fall fun around OKC. And with events that fit into any budget, planning the perfect fall day out has never been easier!
Pumpkin Patches & Fall Farms
Sept. 21 - Oct. 31
Parkhurst Pumpkin Patch (720 Henney, Arcadia) features hay rides, a cornfield maze, fun fort, petting zoo, hay rides, pony rides, fire pits for roasting, picnic areas and more. Cash or check only. General admission, $9; Thursdays, $8; kids (2 and under), free. Cash or check only. Thursday, 1-6 p.m.; Friday-Saturday, 10 a.m.-8 p.m.; Sunday, 1-6 p.m.
Sept. 22 - Nov. 10
The Orr Family Farm (14400 S Western) features hay rides, a pumpkin patch, corn maze and fun fall activities. Some activities may require additional fees like the Zombie Apocalypse Paintball, offered on select days. New this year, Farm After Dark is a fun, new way to experience Farm activities. Weekdays, $11.95; weekends, $15.95. Kids age 2 and under are free. Packages and season passes available. See website for hours of operation.
Sept. 22 - Oct. 31
Chester's Pumpkin Patch at Chester's Party Barn & Farm (5201 Cimarron Rd, Piedmont) features a petting zoo, giant slide, pony rides, hay rides, 3-acre mystery maze, games and more. Admission includes one pumpkin per paid guest while supplies last. Annual memberships are available. $6-$10. Infants 11 months & under and seniors ages 65 & older are free. Monday-Saturday, 9 a.m.-6 p.m.; Sunday, 1-6 p.m. 
Sept. 28 - Oct. 21
WINGS: A Special Needs Community Fall Harvest Pumpkin Patch (13700 N Eastern, Edmond) features pumpkins, pony rides, a pumpkin train, hay rides, hay slide, corn maze, bounce houses, games and more. $5; kids (2 & under), free. Operating hours are Friday & Saturday, 10 a.m -6 p.m.; Sunday, 1-6 p.m. 
Sept. 28 – Oct. 31
The Pumpkin Patch at Good Shepherd United Methodist Church (10928 SW 15th St, Yukon) has pumpkins for sale, benefiting the Children's Ministries. Free weekly story time on Tuesdays in October from 11-11:30 a.m. Prices vary. 11 a.m.- 7 p.m.
Sept. 29 - Oct. 28
The Patch at Silver Wind Farm (16315 N MacArthur Blvd, Edmond) features farm games, story time in the farmyard, real tortoise and hare races, inflatables, pony rides, costume contests for people and pets, as well as pumpkin painting and carving contests. Some activities not included in general admission.  3 & up, $10. Free adult ticket with the purchase of a child admission. Friday, 4-7 p.m.; Saturday, 11 a.m.-7 p.m.; Sunday, 2-6 p.m. 
Sept. 29 - Oct. 31
Pumpkin Patch at the Oklahoma City Zoo (2101 NE 50th St) features an on-site pumpkin patch where guests of all ages can shop and select from the Zoo's plethora of pumpkins. Benefits the Oklahoma City Zoo and conservation efforts. Open daily, 9 a.m.-5 p.m.
Sept. 30 - Oct. 31
St. Matthew United Methodist Church Annual Pumpkin Patch (300 N Air Depot, Midwest City) features story time, garden shop, pumpkins of all sizes and picture opportunities. Proceeds benefit local missions and non-profits. Pumpkin Festival on Oct. 13. Monday-Saturday, 10 a.m.-8 p.m.; Sunday, noon-8 p.m. 
Oct. 5 - 21
Pumpkinville at the Myriad Gardens presented by OG&E (301 W Reno) celebrates pumpkins and all things fall. Thousands of pumpkins are on display along with scarecrows and a variety of activities. Free admission for members and kids 3 & under. Non-members, $8. Open daily, 10 a.m.- 5 p.m.
Oct. 15 - 31
FREE Pumpkin Patch at Gate Church (7700 N Council Rd) features a variety of fall fun including pumpkins, photo areas, games and more. Admission and activities are free. Pumpkins available for purchase (price varies by size). Monday-Saturday, 11 a.m-7 p.m.; Sunday 2-6 p.m.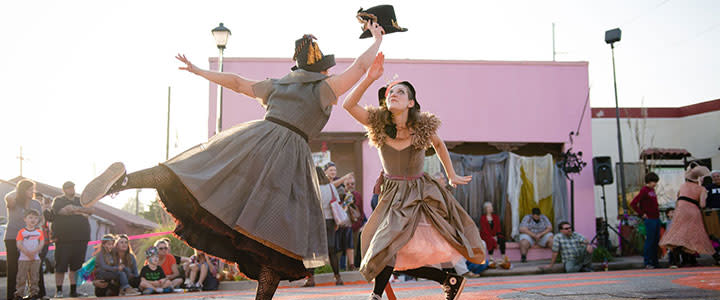 Top Fall Festivals & Events
Weekly on October
RIVERSCREAM at RIVERSPORT Adventures (800 Riversport Dr). Zombies have taken over RIVERSPORT Adventures. In addition to the regular activities with a spooky twist, enjoy a Pirate Zone for guest 7 & under. Prices vary. Fridays & Saturdays, 5-11 p.m.
Haunt the River with Oklahoma River Cruises at Exchange Landing (1503 Exchange Ave) features a decorated boat, haunted tunes, light snacks and cash bar on board. This cruise is for adults only. $35. Fridays & Saturdays, 8-9 p.m. 
Haunt the River Kids Cruise with Oklahoma River Cruises (all landings) features candy, activity books and costume contests aboard a haunted boat. Costumes encouraged. All children must be accompanied by an adult. Adults, $12; kids, $6. Saturdays, 11:30 a.m.-3 p.m. 
Oct. 1 - 7
Pumpkin Drive at the Oklahoma City Zoo (2101 NE 50th St) features free admission when you bring a pumpkin larger than your head. The donated pumpkins will be used to decorate the Haunt the Zoo trail. Purchase your pumpkins at the Zoo and support conservation too. Pumpkins will be available for purchase Oct. 1-31.
Oct. 5
Sensory Night at Pumpkinville at Myriad Gardens (301 W Reno Ave) features a welcoming environment to experience the fall festival with no loud music and smaller crowds. Attendees can enjoy festive booths, crafts and activities. Preregister, space is limited. Siblings welcome. Members, $10; non-members, $12; adults, free. 6-8 p.m.
Oct. 7
FREE Pumpkin Princess Pageant at Orr Family Farm (14400 S Western Ave). Little princesses from 2 to 10 years old can come to the Farm dressed in their best princess costumes and compete in the annual pageant. Three different age groups will have the chance to win a pumpkin princess goody basket. Pumpkin-themed dress is not required, though it may influence the judge's final decision. 2-4 p.m.
Oct. 13
FREE Paranormal Fest at the Downtown Library (300 Park Ave). Learn about the paranormal with guest experts and fun activities including an all-ages haunted escape room, paranormal story time, face painting, creepy crawlies from the OKC Zoo and more. Noon-4 p.m.
Oct. 13 & 14
St. James Fall Festival at St. James Catholic Church (4201 S McKinley Ave) features a multicultural festival with live music, food, carnival games, inflatables, raffle prizes and more. All ages welcome. Free to attend. 9 a.m.-7 p.m.
Oct. 15 – 21
Fall Break Drop-in Activities at the National Cowboy and Western Heritage Museum (1700 NW 63rd St) features daily make-and-take activities using a variety of mediums including clay, hand-printing, foil art and more. Free with admission. 10 a.m.-2 p.m.
Oct. 9 - 13 & 16 - 20
FREE Fall Y'All Family Fun at the Oklahoma Hall of Fame (1400 Classen Dr) features fun, themed activities for the whole family including story time, crafts, movies and a community art project. 10:30 a.m. Each day has a special theme planned.
Oct. 18
Mysteries of the Overholser Mansion Tour at the Henry Overholser Mansion (405 NW 15th St) features an extended tour of the mansion at night. Guests can examine archival materials and hear some amazing stories. $20. 7-8:30 p.m.
Oct. 19
Pumpkin Chomp & Stomp at the Oklahoma City Zoo (2101 NE 50th St) is a Halloween-themed animal enrichment event. Zookeepers prepare fun, festive food for the animals to enjoy. Free with admission. 10 a.m.-3 p.m.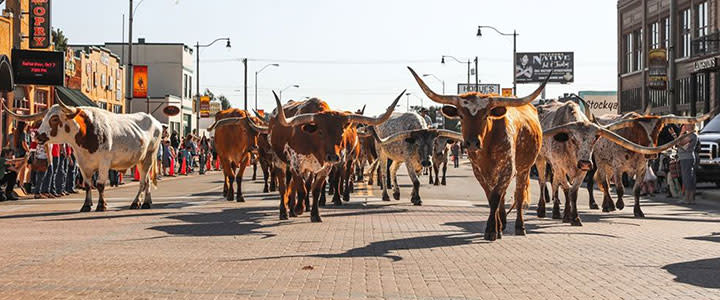 Oct. 20 
Stockyards Stampede in Stockyards City (1305 S Agnew) features chuck wagons, blacksmiths, gunfighters, carriage rides, food trucks and a children's educational area with commodity trailers, tractors, straw mazes and games. Free to attend. 10 a.m.-4 p.m.
Oct. 20 & 21
Haunt the Zoo at the Oklahoma City Zoo (2101 NE 50th St) features photo opportunities, fantasy-themed booths & trick-or-treating. Costumes encouraged. Adults can dress up too but nothing too scary, please. Zoo admission is required. Trick-or-treat bags, $7; members, $6. Saturday & Sunday, 9 a.m.-4 p.m. Also held Oct. 27 & 28.
Oct. 21
Spooky Pooch Parade at Myriad Botanical Gardens (301 W Reno Ave) features spooky music and a parade of pooches. Judges will present prizes to the best dressed pooch. Preregister. Members, $10 per dog; nonmembers, $12 per dog. 2-3:30 p.m.
Oct. 24
FREE Fall Bash at SpringHill Suites (3201 W Memorial Rd) features trunk-or-treating and activities for kids as well as an art show. 5:30-7:30 p.m.
FREE Mall-O-Ween at Penn Square Mall (1900 NW Expressway) features mall-wide, indoor trick-or-treating at participating retailers and a festive photo area. Costumes are welcome but only during event hours. 6-8 p.m.
Oct. 25
Haunt the Harn at Harn Homestead (1721 N Lincoln Blvd) features trick-or-treating and more. $5 in advance or $7 at the gate. 6:30-8:30 p.m.
Oct. 26
FREE Fall Fest at Westminster Presbyterian Church (4400 N Shartel Ave) features Features trunk-or-treat, games, half-mile costume walk and food. In the event of rain, activities will be held in the basement of the church. Costume walk, $5. 5-7 p.m.
FREE Fall Festival at Church of the Servant (14343 N MacArthur) features trunk-or-treat and carnival games outdoors. Indoors, guests can enjoy inflatables, face painting, balloon animals, a cake walk, therapy dogs and a bake sale. Dress up encouraged, but no scary costumes please.  Families are encouraged to bring donations of diapers or wipes for Infant Crisis Services.  In case of rain, activities will move indoors. A hot dog dinner, cotton candy and popcorn will be available for minimal cost. 6-8 p.m.
Halloween Forensic Night at Skeletons: Museum of Osetology (10301 S Sunnylane Rd) features hands-on activities to learn to "read" the features of a human skull to determine: age, sex, physical trauma and/or illness. Detective costumes encouraged. All forensic activities involve replica human skulls cast from real trauma cases. Personal discretion is advised. $35. 6-9 p.m. 
Oct. 27
Turn the Town Upside Down at the National Cowboy & Western Heritage Museum (1700 NE 63rd St) features fantasy and imaginative, kid-friendly activities including sampling sarsaparilla in the Silver Dollar Saloon, visit the Fleming Mercantile for peppermint sticks and salt water taffy and more. Costumes encouraged. $5. Museum or Oklahoma Children's Theatre's members, free. 10 a.m.-2 p.m.
Trick ORR Treat at the Farm at Orr Family Farm (14400 S Western Ave) features trick or treating, a screening of The Great Pumpkin movie and bonfires in addition to the farm's attractions. Costumes encouraged. Free with admission.10 a.m.-9 p.m.
Gypsy Glam Roadshow Fall Festival at Tony's Tree Plantation (3801 S Post Rd) features trick-or-treating for children and dogs, a pooch parade with prizes, make and take art, cake walk, clowns, balloons, face painting, pumpkin decorating, games, prizes, animal rescues, food trucks and shopping with local Oklahoma businesses. Admission and parking is free. Costumes encouraged for children and pets. 11 a.m.-3 p.m.
FREE Hall-o-ween Extravaganza at Central Presbyterian Church (5101 N May Ave) features a night of indoor trick-or-treating, Halloween games, and a free chili dinner, while supplies last. No scary costumes. 6 - 8 p.m.
Spook N' Roll Halloween Party at Skate Galaxy (5800 NW 36th St) features a festive party with skating and a costume contest. $15. 7 p.m.-midnight.
Oct. 27 - 28
Halloween Train at the Oklahoma Railway Museum (3400 NE Grand Blvd) features a Halloween train ride, moon bounce and miniature golf. Smiley O'Riley from Dental Depot will be handing out goodie bags to all of the children. Costumes encouraged. Train rides: 13 & up, $12, kids (3-12), $5; kids (under 3), free. 9 a.m. - 5 p.m.
Oct. 28
FREE Day of the Dead Festival in the Plaza District (1745 NW 16th St) features a festive tribute to the Latino holiday. Activities include a parade, art, dancing, music, vendors, food, group art show, annual La Catrina Procession and more. 1-8p.m.
FREE Magic Lantern Celebration in the Paseo Arts Distrtict (Paseo Ave). Children of all ages are invited to "come as they are" and transform themselves with the help of local artists and join in on a costume parade on the labyrinth painted on the street. 3-6:15 p.m.
Oct. 29
FREE Brick or Treat in Bricktown (Reno & Mickey Mantle) features trick or treating at more than 40 Bricktown businesses, a pumpkin-painting station and SNL photo booth. The central hub of the event will take place at the Mickey Mantle Plaza at the Chickasaw Bricktown Ballpark where attendees can pick up an event map. 4-7 p.m.
Oct. 31
FREE Trick-or-Treat at Northpark Mall (122nd & N May). Select stores will be handing out candy. Costumes welcome. 3-5 p.m.
FREE Haunt the Hill On Calle Dos Cinco in the Historic Capitol Hill District (SW 25th St between Hudson & Robinson) features safe trick-or treating including business booths offering free games and goodies. 5 - 8 p.m.
Halloween Shindig at Skeletons: Museum of Osteology (10301 S Sunnylane Rd) features a spooky, but not too spooky party with scavenger hunts, owl pellet dissection station, Halloween-themed crafts, live animals and trick-or-treating stations.  The Oklahoma City Zoo will be at the museum from 6-7:30 p.m. Costumes encouraged. $6; dissection kits, $5. 6-9 p.m.