Oklahoma City's Stockyards City has been a vital part of our state since the district was founded in 1910. Built to serve the United States as a primary source for meat processing and packing, Armour, Morris and Wilson companies had established huge facilities to slaughter and package cattle, hogs and sheep which were transported from across the country to OKC – first by cattle drive and later by railroad and truck. 
Though the packing plants closed in 1961, the profitable on-site cattle trading and related businesses remained. The Oklahoma National Stockyards grew to be, and still is, a vital part of both local culture and national trade. In fact, it is the only sale venue of its kind remaining in the United States. 
Today, Stockyards City is also a vibrant destination for cattlemen and tourists alike to visit for a delectable meal, a variety of apparel, supplies, entertainment and more. It's a great place to spend a day – or more! 
Shopportunities abound in Stockyard City. You won't want to miss Oklahoma Native Art & Jewelry. Yolanda White Antelope's turquoise jewelry and horsehair pottery will take your breath away. Need some boots to scoot? Maybe some new dungarees or other apparel? Head for Little Joe's Boots, which has been around since the 1950s; Langston's Western Wear, another Stockyards OG with clothing and footwear for men, women and kids. Shorty's Caboy Hattery is legendary for its beautifully crafted hats and is also the only woman-owned and operated custom hattery in the United States. 
Rodeo Cinema is a great place to take in a film – with one of its two locations in Stockyards City, it's Oklahoma City's only nonprofit arthouse cinema and theatre. Pro tip: arrive about half an hour early to roam around the historic theatre, grab a big bucket of popcorn and settle in before your movie starts. Saturday nights through the end of April, you can catch a show at the Oklahoma Opry. Since 1977, the Opry has been producing high-caliber country music shows. Doors open at 6 p.m., show starts at 7 p.m. and there's a full snack bar and bar-bar. 
You'll want to map out a meal plan because the food in Stockyards City is amazing. Cattlemen's Steakhouse has been serving up classic American steaks and other fare for more than 100 years. It's a must-go and is open for breakfast, lunch and dinner starting at 6 a.m. daily. McClintock Saloon and Chophouse is beautiful – a classic Western carved wood bar, crystal chandeliers, a patio and three indoor dining spaces. Creative and classic gourmet food and drinks are served starting at lunchtime on weekdays and brunchtime on weekends.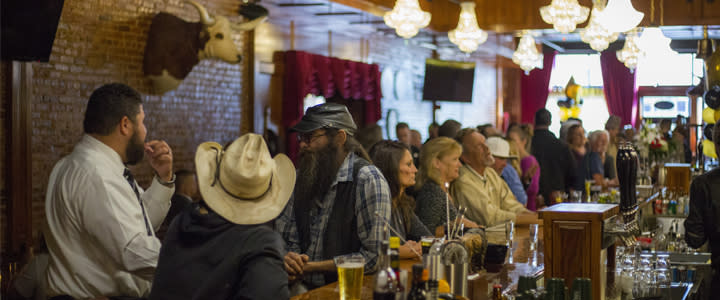 Are you an equestrian? A rancher? Do you wanna be a cowboy? National Saddlery is the mecca for tack, roping supplies, roughstock, even home accessories, beautifully tooled leather work like handbags and Lucchese boots.
But back to the shopping. Grain & Grange Market is a chic little boutique filled with trend-forward, stylish women's clothing at moderate prices, and Boxcar Woody is filled with artisanal furnishings (we love the Whiskey Barrel Chair) crafted from reclaimed wood from boxcars and other sources. Finally, Stockyards Sarsaparilla is an old-fashioned candy and soda shop where you can find homemade fudge, nostalgic candies like Abba-Zaba and Beeman's Chewing gum, western-themed gifts, flavored coffees and more.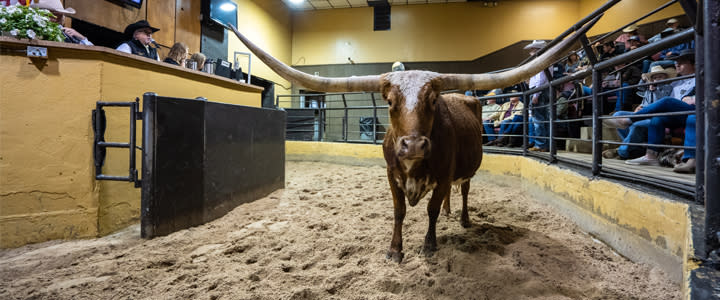 And we'd be remiss if we didn't mention the live cattle auctions that take place every Monday and Tuesday and are open to the public. You haven't experienced cattle country until you've seen a live cattle auction in the Stockyards!