With a genuine "old west" atmosphere and one of the last working cattle markets in the nation, the Stockyards City District is a historic adventure in shopping, history and food for modern visitors looking for a taste of the past.
Rev up your inner cowboy by exploring the Oklahoma City Stockyards, which opened in 1910 and is still the largest working cattle market in the United States, Stockyards City also offers boutique shops and eateries that offer everything from Western wear to art. Here's how to spend a day at Oklahoma City's Stockyards City.
A DAY IN THE STOCKYARDS AND A LOOK AT HISTORY
6 a.m. - Hit the Stockyards City District early to fill up on homemade biscuits, loaded omelets, eggs and bacon at Heather's Stockyards Cafe at 2501 Exchange Ave. If you want something a more international, Panadería La Herradura at 2235 SW 14th St. serves abrazos, traditional breads and Mexican pastries.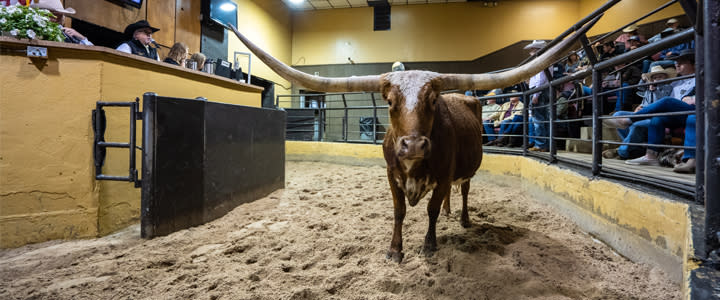 8 a.m. – On Monday and Tuesday, witness a live cattle auction at the Livestock Exchange Building. Be a part of the excitement as ranchers and livestock industry leaders gather to bid and sell cattle at the world's largest cattle market.
10 a.m. – It's time to get your cowboy style on by shopping at the wide selection of western wear boutiques like Langston's at 2224 Exchange Ave., Little Joe's Boot Shop at 2219 Exchange Ave and Shorty's Caboy Hattery at 1007 S Agnew Ave.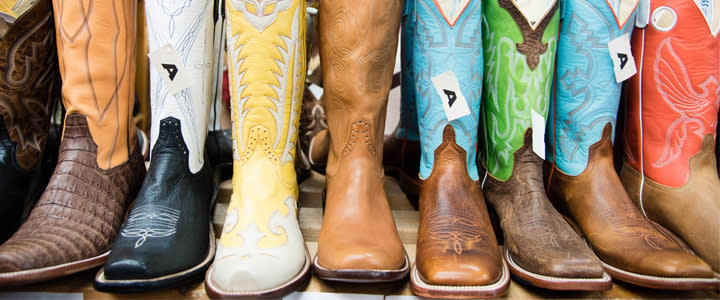 Explore the Oklahoma Native American Art and Jewelry at 2204 Exchange Ave to pick out the perfect gift of traditional and unique items made by native artisans like horsehair pottery, sculpture, artwork, beaded bags and sterling silver jewelry.
11:30 - After all that shopping, you're likely to be parched, so grab an old-time root beer or sasparilla soda at Stockyard's Sarsparilla at 1307 S. Agnew Ave. This sweets shop overflows with cowboy-era candies and sodas and is quick to offer a sample of fudge, coffee and locally-made Oklahoma goodies.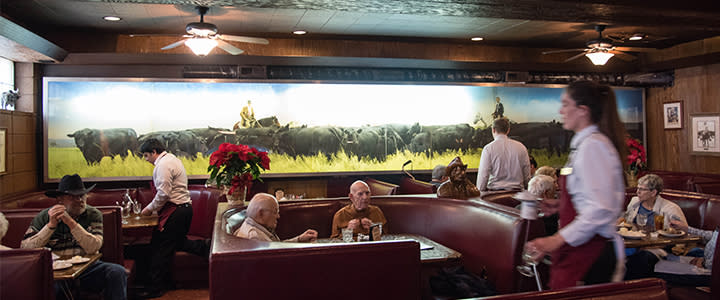 Noon – For lunch, your raging appetite will crave food from one of the most famous restaurants in Oklahoma City. Cattlemen's Cafe at 1309 S. Agnew has served up giant steaks, lamb fries, homemade pies and legendary breakfasts to cowboys, ranchers, movie stars and even U.S. presidents since 1910.
1 p.m. - For the brave souls, a visit to the Oklahoma City Rattlesnake and Venom Museum at the corner of SW 15th and Agnew is a must. This free museum has rattlesnakes from all over the United States and Oklahoma and even poisonous snakes from Africa.
2 p.m. - Satisfy your need for decor and collectibles with visits to the many boutique interior design and antique shops in Stockyards City like CrossBar Gallery and National Saddlery at 1400 S. Agnew and Rusty Chandelier at 1206.
4:30 p.m. - Take in an independent film during a matinee at the Rodeo Cinema at 2221 Exchange Ave. This historic movie theatre opened in 1924, showing silent movies of the day, but now shows independent films in a unique movie-watching experience.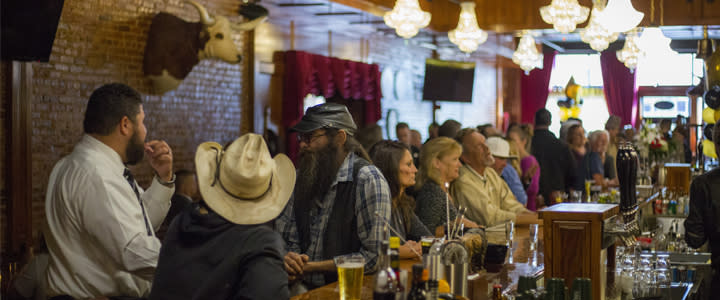 6 p.m. - Get a real feel of an Old West saloon next door at McClintock's Saloon and Chophouse at 2227 Exchange Avenue for dinner and drinks. This restaurant offers an authentic Western eating experience with its 50-foot long bar that Wyatt Earp would be at home sitting at. While you won't find any outlaws or lawmen, you will find award-winning steaks, a wide selection of quality whiskey, wine and beer and local favorites like fried chicken livers, chicken fried steak, rack of lamb and towering burgers.
7 p.m. – When live music is back in action, catch a show at the Rodeo Opry on Saturday nights, 2221 Exchange Ave. to enjoy Oklahoma's best in country and gospel entertainment.