We no longer celebrate Oktoberfest as they did at the original in Munich in 1810, with horse racing and a royal wedding, but the fall festival continues to be a draw for beer fans all over the world. By 1896, the Munich festival was officially a beer event; the large breweries had sponsored tents, and food vendors worked the crowd, selling traditional Bavarian dishes. The festival kicked off with the mayor trying to tap the kegs in as few swings of the hammer as possible. (We're hoping that Mayor Holt will play along.) 
Central to the celebration was Marzen, the German lager that takes its name from the month the process actually begins, March. The malty, amber to brown beer is rich and round, with less bitterness than its paler cousins. It's become the de facto beverage for all Oktoberfest celebrations, along with its tamer sibling, the Festbier.  

In Oklahoma City, the two bars that have annually done Oktoberfest with all the energy and excitement expected on such a big day are McNellie's and Fassler Hall. The party in Midtown starts at 11 a.m. Saturday, September 23, and both bars will contribute to the festivities. There will be a traditional Paulaner keg tapping to kick things off (looking at you, Mayor Holt), followed by live music, games like stein hoisting and keg rolling and a prize for the best Oktoberfest costume. The big draw is likely to be the wiener dog race at McNellie's – who needs horses when you have dachshunds?  
Just about a mile and a half from Midtown is Fair-Weather Friend. Like the Midtown bars, they host an Oktoberfest celebration every year. This year, the event is Saturday, September 30, and for the full experience, show up between 1 and 3 p.m. for the Masopust Polka Band. Owners Reed and Adrienne Jaskula will have Bratwurst sandwiches and platters, Bavarian pretzels, German potato salad and house-fermented sauerkraut. There will be games, of course, including stein holding and sausage tossing, the latter features two teammates attempting to catch sausages at increasingly long distances. They are far more slippery than you expect. Fair-Weather Friend will have this year's Festbier on tap for the celebration.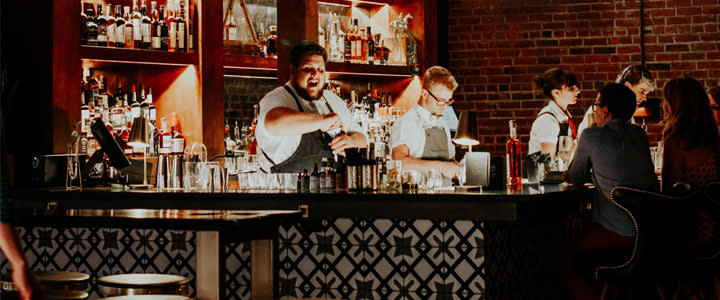 The Jones Assembly will have their annual Jonestoberfest on Saturday, September 23, beginning with college football on the screens and standard brunch at 10:30 a.m. The Oktoberfest party kicks off with a lineup (announced September 1) of bands and local DJs. They will be serving German-inspired food and steins of beer, and the party continues until close. The bar will also serve a good selection of Marzens and Festbiers from local brewers. 
Anthem Brewing will combine Oktoberfest with their 11th anniversary on Saturday, September 16, from noon to 10 p.m. They will be serving up traditional Bavarian pretzels, along with food truck options including Brasco's Chicken & Waffles. In a nice take-home twist, they'll also have a 25-ounce German tankard glass that you can fill with either Oktoberfest or their Anniversary Cold IPA – or any of their other beers, ciders and seltzers on tap. There will be live music from 2 - 10 p.m., as well as games, giveaways and a make-your-own tie dye shirt. 

Stonecloud's Festbier is already widely available in the metro, but on Saturday, September 30, you can join the party at their OKC taproom from noon to 11 p.m. In addition to the beer, seltzer and frozen drinks, they'll have live music, a stein hoisting competition and a lederhosen contest. 
Two of the city's most popular breweries – COOP and Skydance – have already hosted events, but their beers continue until supplies run out. COOP does a Marzen every year, and it's malty, smooth and easy to drink. Because they collaborated with '90s rock band The Flannels this year, Jake Keyes's Skydance Brewing created Smells Like Stein Spirit, a beautifully balanced Marzen that will follow the band on the rest of their tour.