The year has come to a close, and that means many people will be making promises to themselves to eat healthier, drink less and work out more in 2023. Fortunately, Oklahoma City has a wealth of restaurants that make keeping the "eat healthier" part a little easier to pull off.  
Sometimes, the definition of "healthier" is relative to what you've done previously, but we'll assume you mean as healthy as possible by nutritional standards. Even the most over-the-top, comfort-food restaurants will often have healthy options, so it's not as if you need to give up your favorite places to make a change. We've got suggestions for places that mainly do healthy food and those that do a mix of healthy and "I wish I could still eat that." 
Bee Healthy Cafe. When Amir and Cindy Alavi founded the company, it was in response to a medical diagnosis for Cindy that got the couple thinking in terms of eating healthy. It was Health Nut Cafe for many years, but in 2021, the Bee Healthy brand was unveiled with changes to the menu. It's still full of mostly healthy options, including salmon, vegetarian specialties and salads. The food is fresh, and the company is built on service. 
Frida Southwest. Yes, that Frida, the one with some of the city's best food and cocktails also has healthy options. The vegan calamari, made with hearts of palm, is the one dish everyone who thinks vegan can't be delicious should try. It's life-changing.  
Kitchen 324. No, not the bakery part of the operation, but the salad options. The Kitchen Salad has sliced beef tenderloin, making it a full meal, but it's enough for two meals. The menu has kale salad, a sweet potato sandwich and even a veggie plate. It's easier to eat healthy here than people expect. 

Nebu. It's one of the city's tucked-away gems, unknown to most people except those who work in the Devon Tower. Nebu has multiple kitchens, including a sushi bar and a Health Bar with an excellent assortment of ingredients to build your own salads.  
Plant. You'll find delicious food throughout the menu, and it's all plant-based – even the ice cream. You'll find excellent soups, thoughtful, creative salads and hearty entrees like the roasted root bowl, with carrots, sweet potatoes, beets and onions.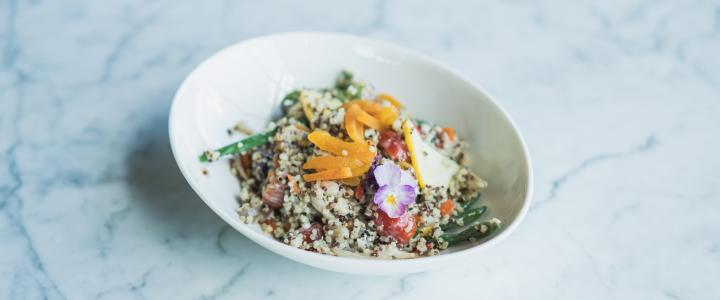 The Red Cup. The chef at Red Cup loves meat, even though he gave it up years ago. So he's worked hard to make vegan dishes with the same kind of savory, hearty flavors and mouthfeel that you get from animal-based proteins. The menu ranges from a traditional vegan joint to very creative plant-based dishes, and all of it is excellent.  
Finally, Buddha Bowls. No, not a restaurant name. One of the most popular dishes in the city. So popular in fact, that you can find great ones at The Jones Assembly and Red Rooster, and since we're recommending one-off dishes, don't skip the vegan posole at The Joinery.