Welcome to the Modern Frontier!
Consider this your official invitation to experience the energy, excitement and welcoming spirit of Oklahoma City – a city open to all. What better way to learn about our great city than first-hand from locals? We've gathered a handful of OKC movers and shakers to share their perspectives on what makes OKC the place they've chosen to live, work and play in year-round.
---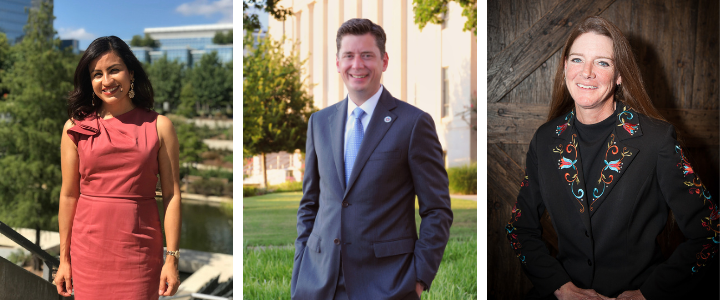 | | | |
| --- | --- | --- |
| Brenda Hernandez | David Holt | Kelli Payne |
| Tango PR's friendly, passionate and reliable Vice President and Co-founder | Husband, Father, OKC Thunder fan – and also worth noting – Mayor of OKC | Oklahoma National Stockyards President and one of OKC's most outgoing and creative forces |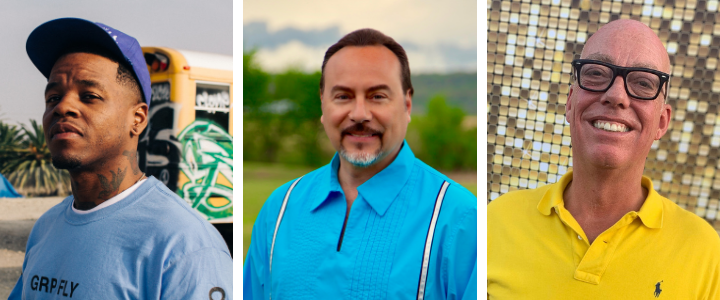 | | | |
| --- | --- | --- |
| Jabee | James Pepper Henry (JPH) | Lance McDaniel |
| Musician, Business-owner, Emmy winner and passionate community advocate | Director/CEO of the First Americans Museum who is always coming and going | Independent filmmaker that brings positivity, enthusiasm and a collaborative spirit to everything he touches |
How do you describe OKC to someone who hasn't been here before?
The Greatest most unique place on earth! – Jabee
When you visit Oklahoma City, expect the unexpected. We have invested billions of tax dollars to create parks, sidewalks, streetcars, boathouses, senior wellness centers and all the amenities of a modern city looking toward the future.  – Lance
First, Oklahoma City is an incredibly diverse city where 60 percent of our residents under the age of 18 are non-white. That diversity is driven by large African American, Latino, Vietnamese and Native American communities. I would also add that we offer a unique combination you can't find anywhere else.  As America's 25th-most populous city, we have all the amenities of a big city but with friendly people and none of the hassles you'd find in similar-sized cities.  – Mayor Holt
You certainly won't find friendlier folks than right here in Oklahoma! With the many unique businesses and districts in our city, there is something for everyone. We truly celebrate our rich heritage melded with our diversity and look forward to a prosperous future here in Oklahoma City! – Kelli
I am from California and most of my friends and family thought I lived out in the country, with horses and cows in my backyard. I love to share about all the exciting events happening in our city, the coffee shops and restaurants I love to visit, and about all the incredible new developments that are happening. Many can't believe there is so much to do and that so much is happening in what they thought was a small town. – Brenda
Visitors don't realize what great museums we have including the National Cowboy & Western Heritage Museum, Science Museum Oklahoma, Oklahoma History Center, Oklahoma City National Memorial & Museum, OKC Museum of Art, the soon to be First Americans Museum, and my personal favorite – the American Banjo Museum. – JPH
What OKC spot do you like to show off when you host out-of-town guests?
Martin Park Nature Center & Trail and the Myriad Botanical Gardens – we have great parks in OKC – JPH
The East Side and restaurants – Jabee
Scissortail Park and The Jones Assembly – Lance
The Stockyards, of course! – Kelli
Downtown by Streetcar – Mayor Holt
Downtown OKC and Bricktown are two of the places I love to show off. We like catching an OKC Dodgers baseball game, Thunder basketball game or just enjoy some time at the beautiful Myriad Gardens and our new Scissortail Park. – Brenda
Where's your favorite place to hang out that only locals may know?
I love to hang out in the Paseo District – Oklahoma City's original arts district – with its awesome restaurants, bars and art galleries. – Lance
The patio at McClintock's Saloon is a wonderful hidden gem in the Stockyards City district. – Kelli
I love supporting our local districts, especially Calle Dos Cinco in Historic Capitol Hill and the Plaza District. The food from the family-owned businesses in these districts is my favorite! – Brenda
I like to hang out at Lake Overholser and watch the sunset and get my joe at Red Cup – one of the best local coffee houses. – JPH
Capitol Hill – Mayor Holt
Oklahoma City embodies the Modern Frontier – what does that mean to you?
We are a growing, culturally diverse community with a strong heritage. People are coming from all parts of the country and calling OKC home because of the endless possibilities found here, because they feel welcomed and able to contribute to the growth of our city. – Brenda
The Modern Frontier is about advancing ideas, technology and inclusivity, and Oklahoma City is the premier place on the southern plains where these things are happening. – JPH
Just like when Indigenous people called this place home and then later when the city was founded by an influx of settlers, you can still be whatever you want to be in Oklahoma City. There is no barrier to entry if you want to contribute to this city's future. – Mayor Holt
Oklahoma City is a land of opportunity. If you have a great idea and are willing to work hard, you will find yourself surrounded by people who want you to succeed and are willing to invest in your success.  – Lance
Since the Stockyards was founded shortly after statehood, I believe it was truly the 'Frontier' when established. To think that we are celebrating 110 years of business, but to see the modern technology and growth of Oklahoma City is really exciting!  We can support our rich history while celebrating the diversity of our wonderful city! – Kelli
As evident in these diverse local perspectives, there's not just one way to experience quintessential OKC. Oklahoma City embraces its roots and continues to define its own future. Here, you'll be welcomed with authenticity and overflowing kindness as you discover the heritage, vision and resiliency that lives on in the Oklahoma City of today.​
Check out the Modern Frontier playlist on Spotify where our locals shared their favorite tunes to crank up as you explore OKC.