LGBTQ+ OKC
Oklahoma City is a welcoming destination that offers all the culture, cuisine, attractions and amenities you'd expect in a vibrant, modern city. LGBT travelers will find several distinct districts worth exploring, a thriving arts scene, exciting outdoor recreation options, plenty of nightlife and more, with events like OKC Pride Week dotting the calendar throughout the year.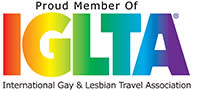 ---
Resources
Organizations
Freedom Oklahoma - Freedom Oklahoma is Oklahoma's statewide advocacy and education organization for the lesbian, gay, bisexual, transgender, and queer community.
OKClassic Lite - The OKClassic is an International Gay Bowling Organization-affiliated tournament.
Sooner State Softball Association - The Sooner State Softball Association (SSSA) was formed to provide Oklahoma City and the state of Oklahoma's LGBT community with a recreational opportunity and to help promote camaraderie. Our league welcomes players who are gay or gay friendly. You will find most levels of play in our league - from the pure recreational player to the more competitive player. The one constant you will find is sportsmanship. Thanks to everyone who participated in our league last year. With your help and commitment SSSA is a success!
PFLAG Oklahoma City - PFLAG OKC is dedicated to support, advocacy, and education for Parents and Friends of Lesbians and Gays. All who are connected with the LBGTQ2SI Community are welcome to join us.
---
Publications & Press Coverage
The Gayly - The Gayly covers LGBT community topics and events as well as things throughout the state of Oklahoma and surrounding region. The South Central region's only LGBTQ news source.