Visitors to OKC have a convenient new way to move around downtown.
The Oklahoma City Streetcar, with beautiful green, blue and pink cars, connects visitors to hotels, dining and attractions throughout Downtown, Bricktown, Automobile Alley and Midtown. The streetcar operates with seven cars on two loops, seven days a week. With 22 platforms on the 4.86 miles loop, passengers only need to walk a couple of blocks to find a platform.
The Oklahoma City Streetcar is offering free fare on select days throughout the year but passes are also available for purchase on each platform, or by using Embark's mobile fare app. Day passes can be purchased for $3 and single-use tickets for $1. For a limited time, a mask will be provided with each pass purchase. 
Bricktown has a dedicated loop that runs from the Myriad Gardens to East Bricktown every 15 minutes (6:00 a.m. - 2:00 a.m. on Fridays and 7:00 a.m. - 2:00 a.m. on Saturdays) along Reno Ave. and Sheridan Ave. The Downtown loop overlaps the Bricktown loop, and service along the Downtown loop begins at 6:00 a.m. Monday through Friday, making it convenient to get to morning business meetings. Streetcars arrive at the Downtown platforms every 12-14 minutes.
View the route map here. Here's a quick guide to what you'll find along the way!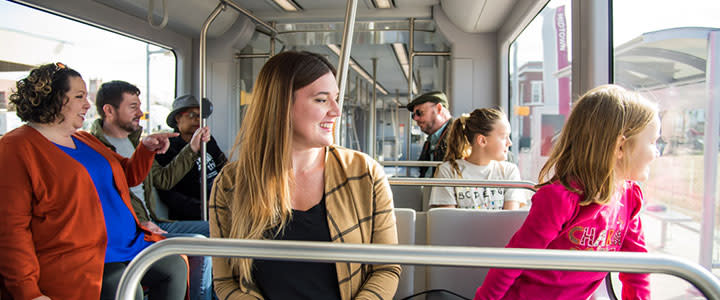 The Bricktown Platforms (1-3, 21-22)
The Bricktown Loop consists of nine platforms, with platform 1 in East Bricktown. That's where you'll find Bass Pro Shops, Toby Keith's "I Love This Bar" & Grill, Charleston's and the Criterion, a 4,000-capacity venue for concerts. It also provides easy access to the historic Deep Deuce District, once home to OKC's jazz scene.
Platform 2 is adjacent to the Chickasaw Bricktown Ballpark, where you can catch an Oklahoma City Dodgers game! The Dodgers are the AAA-affiliate of the Los Angeles Dodgers. The Bricktown Canal, with its mix of family entertainment and restaurants, is also close, as is the plaza around Harkins Theater. Catch a movie, eat tacos at Fuzzy's, cross the bridge for barbecue at Earl's or just stroll the canal. Just a little north of the plaza is Mickey Mantle's Steakhouse, one of the metro's outstanding prime steakhouses.
Number 3 is part of the transit network; it's a stop right by the Santa Fe rail depot, but it's also close to Pinkitzel, one of OKC's most popular candy shops. Pinkitzel carries a wild and colorful selection of candies, cupcakes, macarons and chocolates.
On the Sheridan Avenue side of Bricktown are platforms 21 and 22. This is the traditional entrance to Bricktown, and it's an excellent introduction to what's in store for the visitor. Beautiful murals adorn the underpass, and restaurants and shops line both sides of Sheridan. Here you'll find Painted Door gift boutique, with a great selection of Oklahoma products, decorative accessories, home furnishings, gourmet foods, bath and body care, fragrant candles, children's clothing and accessories, as well as ladies jewelry, handbags and apparel. Right across the street is Tapwerks, the craft beer pioneer in Oklahoma City. This old-school pub has delicious pub fare and one hundred taps, including a stellar selection of local beers.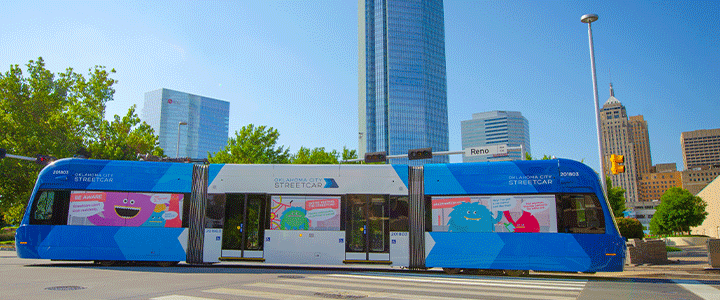 The Thunder Platforms (4-6, 20)
That's not really the name, but platform 4 is sure to be one of the busiest on the loop, as it's situated right in front of Chesapeake Arena, home to the Oklahoma City Thunder. Number 5 is the southernmost platform, and as the new convention center, Omni Hotel and Scissortail Park are open, the traffic to this hub will increase, too.
Number 6 is the Myriad Gardens platform, which should be a popular year-round destination. The gardens are a 15-acre botanical retreat for guests in the middle of the city. The landscaping is changed seasonally for maximum greenery and blossoms. While it's currently closed for renovations, the Crystal Bridge greenhouse is home to more than 700 species of plants. In the winter, the splash pad next to the restaurant is converted into an ice skating rink.
The Century Center at platform 20 is home to Mahogany Prime Steakhouse, a popular fine dining establishment with great pre- and post-game bar crowds. Directly across the street is the Colcord Hotel, OKC's oldest hotel, built in 1909. Flint, an excellent brunch spot, is on the ground floor. Down a short causeway is the entrance to the Devon Tower, with Vast, a top-of-the-city fine dining restaurant, on the 49th floor. Vast also has a cocktail lounge and bar if you just want drinks with a view.

The Business District Platforms (7-9, 18-19)
Number 7 is adjacent to the beautiful downtown library, but it's also a short walk to important business destinations. Just west of the platform is Hightower Park, a lovely pocket park next to the Oklahoma City Museum of Art. The museum is home year-round to the beautiful glass artwork of Dale Chihuly, and visitors can find portions of the museum's permanent collection on floors two and three. The Civic Center is one more block north, just across Bicentennial Park, another urban pocket park. One block north is Patrono, some of the best Italian food available in Oklahoma City.
Platform 8 is the connector for access to Embark's bus routes. The platform is on the edge of Midtown, just a short two blocks from Elemental Coffee and Tamashii Ramen. Both 9 and 18 are located adjacent to the Oklahoma City National Memorial & Museum, one of our state's most popular and meaningful destinations. Tour the museum, walk the grounds, view the interactive screens, and see how our beautiful city responded to tragedy with spirit and strength.
Platform 19 is near Kerr Park, the Skirvin Hotel and Leadership Square. It's also a short walk from Kitchen 324, one of the city's most popular brunch restaurants. With full coffee service, freshly baked pastries, and tantalizing entrees for omnivores and vegetarians, Kitchen 324 is a beautiful downtown hotspot. Yes, they have a full bar.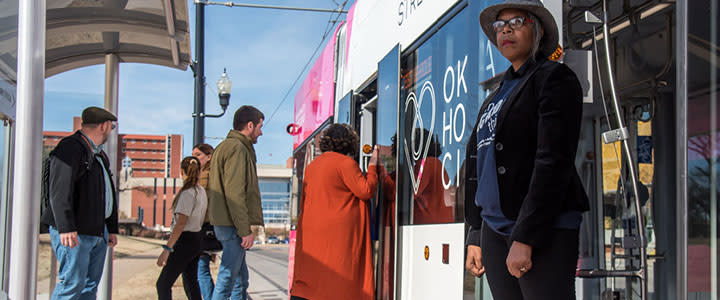 The Automobile Alley Platforms (10-12)
Situated on historic Automobile Alley on N. Robinson Ave., these three platforms are convenient to Hideaway Pizza, Red Primesteak, Yuzo Sushi, Sidecar Bar and one of the city's best wine shops, Broadway Wine Merchants.
The Midtown Platforms (13-16)
Other than the Bricktown platforms, the Midtown leg has the most dining and entertainment options. Fine dining at Café Cuvee in the Ambassador Hotel is our city's version of approachable French Cuisine. After dinner, pop up to O Bar and get a craft cocktail with a view of the downtown skyline from the rooftop balcony. McNellie's Pub is just off the number 14 platform. The popular beer mecca has 300 selections, and a solid menu of pub food, burgers and entrees. For shopping, number 14 also drops you close to Black Scintilla boutique, Chirps & Cheers, Barkeep and several other shops and boutiques. There is sushi at Go Go Sushi, Korean at Gogi Go and Brazilian food (including brunch!) at Café do Brasil. A popular indie bookstore, Commonplace, is at the north edge of Midtown, too.