Murals dominate the public art landscape in Oklahoma City, but installations and statues are increasing in frequency. While some pieces are near the edges of the metro, the overwhelming majority of the art is near or in the urban core, which means you can experience much of our public art in a single day.
Western Avenue is Oklahoma City's original dining and shopping destination, and murals really emerged along the Western Avenue corridor. While some were lost to development, several notable ones remain, and a few new ones are cropping up, too.
The Wilderness on Western, NW 71st and Western, by Nick Bayer, James Clark, and Sam Douglas. This one is mixed media, as some of the animals featured on this tribute to Oklahoma's flora and fauna are made from polyuria coated EPS foam and featured in relief. The mural depicts endangered species (and other animals) from the state's various and diverse geographic regions.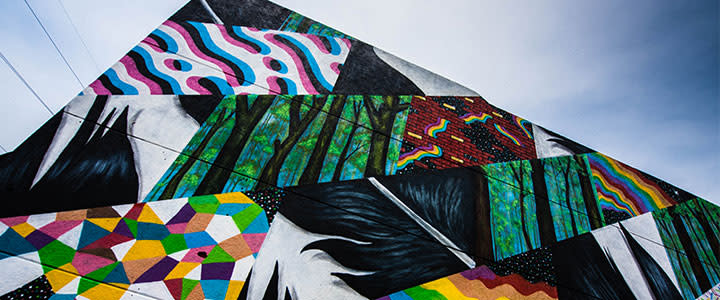 Vibratory Messages (5219 N. Western) by Scott Henderson and Ben Stookey, and The Nature of Things (4408 N. Western) by Kris Kanaly, Jerrod Smith and Dusty Gilpin both rely on a profusion of colors and images to offer up images of the natural world, including an imaginary world in Vibratory Messages. Much of the meaning is left to the viewer in both pieces, but the latter certainly investigates our reliance on nature.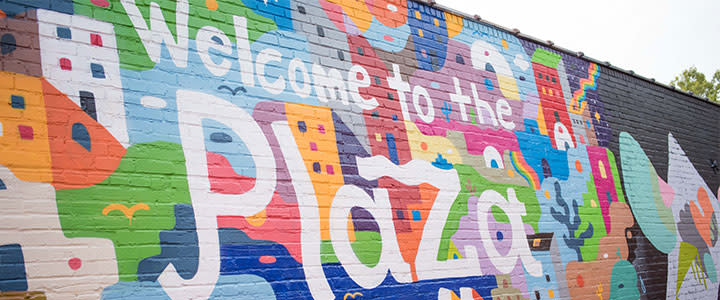 Murals have reached into the Plaza District, as well, and Plaza Walls, a project of Oklahoma Mural Syndicate features many artists whose work appears on a rotating basis on the walls of a private alley. The site was so popular with local businesses that the original site has now expanded to five additional locations.
Within the past few years, artists have begun painting murals on the railroad underpasses leading into Bricktown from the west. Earth to Sky, on the Reno underpass, is the first collaboration of two Native American artists, Chad "Nish" Earles and Rhiana Deck. The work is beautiful and vibrant, with shades of red and blue creating an homage to the nurture provided by our land.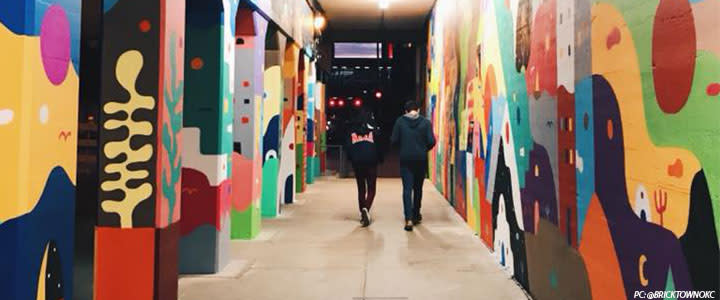 Abstract Passages is Kris Kanaly's underpass mural on Main St. Bold colors and a diversity of geometric shapes, doors, rivers, and landscapes create a gate of sorts into Bricktown.
For active duty and military veterans, Oklahoma City has two pieces in particular that are of interest. Brothers in Arms is one of the city's newest public art pieces. This statue in Military Park off Classen Blvd. depicts a U.S. soldier and a South Vietnamese soldier, standing armed and back to back. Thomas Jay Warren is the artist, and the work is based on the vision of Vinh Nguyen, a local businessman and former SVA Lieutenant Colonel.
One of the city's oldest monuments was dedicated in 1964, and was rededicated and restored in 2003. Sculpted by Leonard McMurray and located in Kerr Park in downtown, the piece depicts Wayne Baughman, an OU graduate and the wrestling coach at the USAF Academy for 25 years.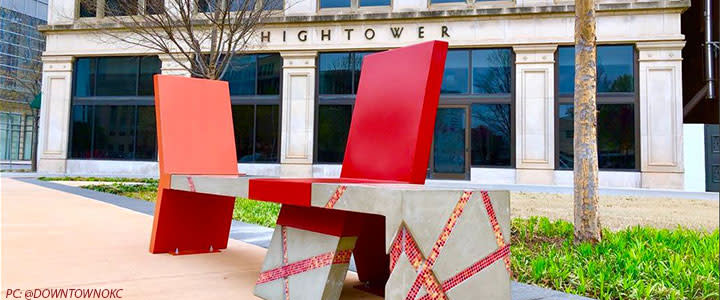 Oklahoma City's newest public art installation is at Hightower Park, and it's an outstanding place to take a break, soak up some sun or even have a picnic lunch. Nurture is the work of Venezuelan-born artist Beatriz Mayorca. The beautiful chairs and benches made of composite materials are lovely to look at and intended to be used, whether to enjoy the moment or rest tired feet.
Dale Chihuly's Memorial Tower is the signature piece in Oklahoma City's Museum of Art's collection, and it is intended as a tribute to the museum's founder Eleanor Blake Kirkpatrick. While it's technically housed inside the building, the three-story piece is always visible—inside or outside—at the museum's main entrance.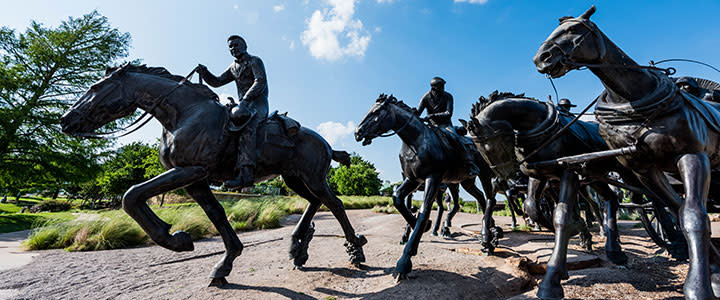 By far the largest public art installation is Paul Moore's massive—more than 100-yards long— a tribute to the Land Run in Lower Bricktown on the South Canal. The humans and horses are sculpted at 1.5 times natural size, making many of the men 12-feet tall. It's a powerful, arresting, sprawling and truly epic series of sculptures.