WELCOME COLLEGE SOFTBALL FANS!
Oklahoma City and the University of Oklahoma are proud to host the 2019 NCAA® Women's College World Series®. Experience It LiveTM May 30 - June 5 at USA Hall of Fame Stadium – OGE Energy Field in the Adventure District of Oklahoma City.

Tickets
2019 WCWS – TICKETS AVAILABLE (SESSION 1)
Witness the top teams in the nation compete for a national championship at the NCAA Women's College World Series! Tickets are still available for Session 1, Thursday, May 30. Visit NCAA.com/WCWS to secure your championship experience today!
Available ticket options: NCAA.com/tickets/softball/d1
2019 WCWS – THE NCAA EXPERIENCE
Get the VIP treatment at the NCAA Women's College World Series with The NCAA Experience®! Choose from premium ticket and hospitality packages for the ultimate fan experience. Ticket and hospitality packages are available for each session and include an air-conditioned tent, tailgate meal, cold beverages and more. Visit NCAA.com/WCWS to secure your VIP experience today!
2019 WCWS – NCAA TICKET EXCHANGE
The NCAA Ticket Exchange® provides softball fans the opportunity to buy and sell official NCAA Women's College World Series tickets in a convenient, safe and guaranteed environment. Buyers will be assured that the tickets are authentic and guaranteed, even if a session is sold out, and sellers will have a place to safely and securely sell their tickets. Visit NCAA.com/WCWS for more information!
2020 WCWS – DEPOSITS (USE BEGINNING MAY 12)
Become a Women's College World Series season ticket holder! With the anticipation of the new stadium renovations comes additional seating options and your chance to secure your tickets for the series. Simply place a $25 per seat deposit for your opportunity to become a season ticket holder. Visit NCAA.com/WCWS for more information and to place your deposit today!

Parking
A free shuttle bus will picks up at Remington Park on Eastern and Grand Boulevard and will take fans to and from the stadium. The shuttle bus runs every 10 minutes each day and will run through the last game of each day after all fans have been dropped off. Daily & handicap parking is available for $20.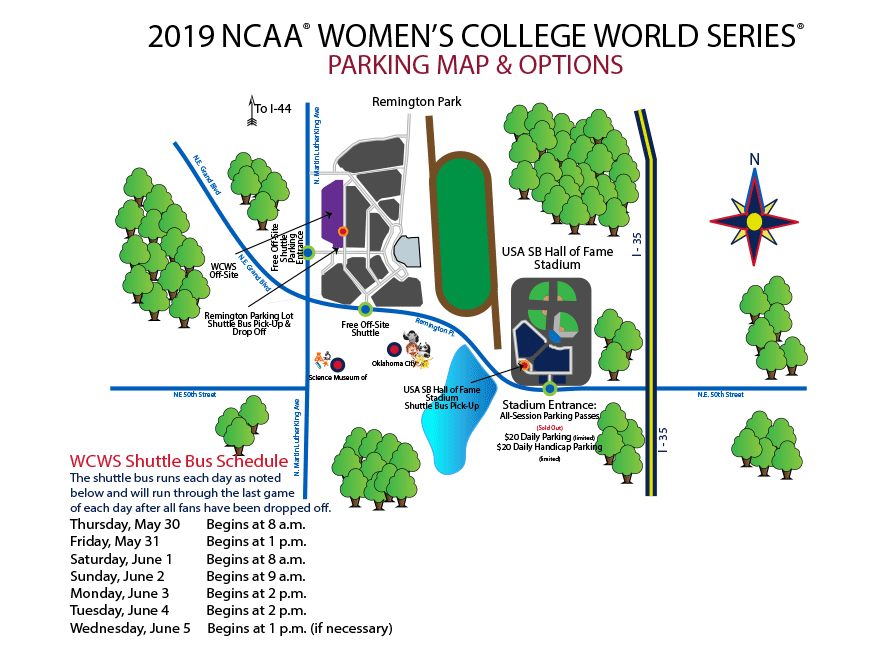 While You're Here

About Oklahoma City
Come explore the possibilities in Oklahoma City. Located in the heart of the state, Oklahoma City's western charm and lively atmosphere create the perfect backdrop for your next vacation. Whether it's arts and culture that capture your heart, or cheering for the home team, you can create the perfect experience in Oklahoma City.
Be sure to experience all the other exciting attractions nearby including; National Cowboy & Western Heritage Museum, Science Museum Oklahoma, Oklahoma City Zoo, Remington Park Racing and Casino, Softball Hall of Fame, Firefighters Museum and the 45th Infantry Division Museum. Explore the Adventure District page for a full list of area attractions. 
Oklahoma City Convention & Visitors Bureau
The mission of the Oklahoma City Convention and Visitors Bureau (OKC CVB) is to promote Oklahoma City as a first-class visitor destination. The OKC CVB also helps contribute to the economic well-being of Oklahoma City and its citizens through the solicitation and servicing of conventions and other related group business. We are the in-the-know locals who can suggest where to stay, tell you the best places to eat, and recommend the sights and attractions you don't want to miss. There's an excitement in the air in Oklahoma City and we have the enviable job of sharing that excitement with the world, spreading the good news of all there is to see and do in OKC. 
University of Oklahoma
Created by the Oklahoma Territorial Legislature in 1890, the University of Oklahoma is a doctoral degree-granting research university serving the educational, cultural, economic and health-care needs of the state, region and nation. The Norman campus serves as home to all of the university's academic programs except health-related fields. OU has more than 2,600 full-time faculty members and 20 colleges. The university is home to one of the most storied intercollegiate athletics programs in the nation. The Sooners boast 26 national championships in men's and women's sports, 251 team conference championships and more than 800 All-Americans.
Being a Sooner means being part of a tradition of excellence. A Sooner is the neighbor conducting groundbreaking research. A Sooner is the friend creatively pursuing new ways to change the world. Sooners are a family with a legacy of making a difference in everyday lives. We're your family, your friends and your neighbors. We are Sooners. Click here for more details.